"There are other tools that can help you improve your health before you become ill. I urge you to be open to the many options available. One that I have found highly useful is the Ondamed biofeedback device, which combines PEMF (pulsed electromagnetic field) technology and pulse biofeedback. It raises the electrical potential of tissues that are in a weakened state, restores normal function, promotes relaxation, and provides an effective, painless, and noninvasive complement or alternative to other pain relief options (surgery, drugs). Ondamed also complements pharmaceuticals, homeopathic remedies, and nutritional supplements. Patients respond more quickly and the effects of the treatments are longer lasting. I have personally seen dramatic benefits with the use of the Ondamed device, not only for specific health conditions, but also for routine health maintenance and stress reduction."
Carolyn Matzinger, MD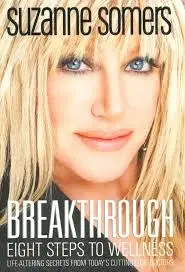 There is always enthusiasm and energy around breakthroughs and new advances in natural healing, and it is exciting to be around doctors who have made the leap to change. I have been especially interested in lymphatic relief (selfishly), and I came across yet another marvelous invention called the ONDAMED machine. This is a very sophisticated new piece of equipment you need to urge your doctor to purchase. It is a cellular-electrical-biofeedback machine and purports to have miraculous effects for acute-pain management and lymphatic congestion, among other things. This machine has been used successfully since 1993. It is a "spectrum of low-level pulsing magnetic fields that induce the flow of micro-currents within the tissues of the patient." Okay, in English this means it is able to locate underlying dysfunction and provide a treatment for the patient. It can pinpoint the location of pain, which doesn't necessarily mean where the pain manifests. For instance, your pain may be in your knee, but the ONDAMED machine can tell where the pain originated, which might be in your kidney. Safe and noninvasive, it promotes improved circulation, wound healing, bone regrowth, and pain relief, for conditions such as fibromyalgia. These conditions resolve quickly, as though the body simply needs a small signal to jump-start the healing process.
"I now use the ONDAMED machine and the results have been truly miraculous. In just a short period of time I am no longer experiencing pain, swelling, or tenderness in the breast, and the most exciting part of this treatment is that it requires no pharmaceuticals."
Suzanne Somers

From Breakthrough: 8 Steps to Wellness by Suzanne Somers, copyright © 2008 by Suzanne Somers. Published by Crown Publishers, an imprint of the Crown Publishing Group, a division of Random House, Inc., New York.